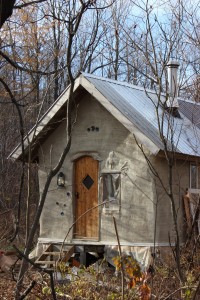 The cabin I built in southern Quebec is intended as a writers cabin. It's also an experiment. I wanted to build an energy-efficient, low-embodied-energy building, using local materials.
The building is a 12′ x 16′ load-bearing straw bale building. Load bearing means that the weight of the roof sits directly on the straw bales, rather than on wood framing. The bales came from a local farm, and had been cut and baled less than two weeks before the bale raising.
The bales were dipped in clay slip before being stacked Leggo-style to build the walls – the layer of clay impregnated into the straw prepares the wall to accept a coat of earth plaster. Only two sides of the bale are dipped, the sides that will be showing when the bale is stacked into the wall. Dipping the bales before building gives a better slip coat than spraying it on later, but it is messy and the bales are heavy after being dipped. I really like the method (which was invented by builders in France and is sometimes called the French dip), but you need to plan your job accordingly.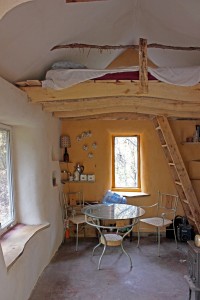 Almost all of the framing wood was harvested locally and milled using a neighbour's Wood Mizer portable sawmill. One of my favourite things about the cabin is the eclectic mix of beautiful woods, and the live edge on many timbers. The only downside, if you want to call it that, was that the wood was milled to rough dimensions – so a 2×6 is actually 2 inches by 6 inches. We realized the difficulty of this when we were a few rafters short of finishing the roof, and rather than just buying lumber at the store we had to cut down a tree, drag the logs into the pickup truck, take them out and mill them to the size we needed. On the other hand, this building is intimately connected to the land it is built on. Some of the building materials came from 30 meters away, and the majority of what went into the cabin traveled less than 10 km. Why does this matter? I could talk about lowering embodied energy and supporting local economies, and these things are important – but there is also a sense of independence, connection to the land, and beauty, which are equally important to me.It's necessary to bring scientific analysis and skepticism into green building, but personal values and fulfillment are equally essential.