10 plasters in 5 days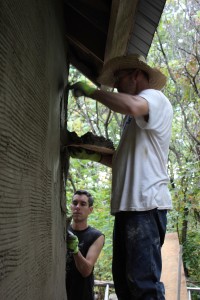 We're writing a book about natural plastering which includes recipes contributed by a number of natural builders in North America and other parts of the world. During two weekend-long workshops in August we'll try out some of the recipes, check coverage estimates, and make samples for strength and permeability testing. The plasters will be applied to a straw bale building. This is a unique opportunity to learn some theory of natural plastering, and get hands-on experience working with a variety of different plasters in a short time. In addition to being a great learning opportunity, it supports the publication of an important plaster book. The location is near Ottawa, in the Gatineau area of Quebec.
Aug 1,2,3 (2015) – Base coats
The base coat weekend will include lime-stabilized earth recipes, earth plaster base coat recipes, and hydraulic lime. Cost for this weekend is $300.
Aug 15-16 (2015) - Finish plasters
Finish plaster recipes will include lime-manure, lime-hemp, harled lime, and different earth plaster recipes. Cost for this weekend is $240.
accommodation and camping
There is a B&B within walking distance, or rustic camping is available on-site ($20/day, $30/2 days), with the use of a summer kitchen. The outdoor kitchen has an oven, outdoor burners, and a barbecue. Outdoor toilets are on-site, and swimming is possible at a nearby lake a mere five-minute walk from the workshop site. Snacks, tea, coffee and potable water will be available.
Other details
$450 for both weekends, or $300/$240 individually. Days will start at 8:30 am and end around 4:30 pm, but there will be a 9:00 am start on the first day. Theory will be presented for a couple of hours in the morning and after lunch, the rest of the day will be hands-on instruction and learning. Participants will bring their own food. Contact Tina Therrien, strawbus@auracom.com or Mike Henry info@naturalplaster.ca for more info.
Tadelakt Plaster for Beginners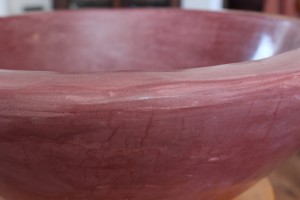 Tadelakt is a Moroccan style of lime plaster that is polished with a smooth stone, leaving characteristic burnish marks. It is also rubbed with black soap which renders it very water-resistant, so that it can be used for showers, backsplashes, and other areas where tile is traditionally used. It is a unique and beautiful plaster made from lime, limestone sand, and pigments, and applied in several very thin layers over the course of a day or more.
Offered 2 different dates at the Endeavour Centre, Peterborough Ontario:
April 11, 2015
November 7, 2015
To stay updated about future workshops, subscribe to this blog (right side of the page).