After reading an article originally published in the Seattle Times, I really wanted to see Steve Sauer's tiny appartment while I was in Seattle. The article about the 182 square foot appartment includes some quotes of Sauer
What I really wanted was one place with exactly what I needed and wanted. Quality is more important than quantity for me, and extra space only a problem
I wanted to compress my home to squirt me back out to the community
I wanted to see the appartment because tiny appartments make that much more sense ecologically than tiny homes. And Sauer seemed interesting, if perhaps a bit of a true believer. What I found was more nuanced.
Sauer showed me around his appartment, which involved walking a mere few steps. The use of space was clever, the appartment is designed in layers with the bed above the living space, and a sitting area by the window that just accomodates a tall person standing, with a low TV lounge area under it. Some of the design was Japanese inspired, where real-estate values require people to live in very small spaces. Also, Steve Sauer has a masters degree in whole systems design, and took the design on as a personal challenge to do more with less.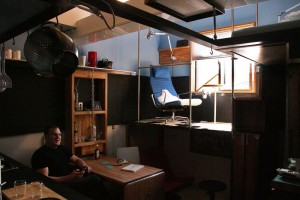 After the 'tour' we sat down to talk. Sauer believes everything he's quoted as saying in the media, but there's another much more conflicted side to him. He described the idea of the tiny appartment as "fraught with peril." He loves the simplicity, and he wanted to show what was possible, but he's having trouble with the idea of actually living there. For one thing there's sporting goods, he says. And tools. He has a storage space next door that is full of overflow from the tiny appartment. And he has a one bedroom condo nearby. He's mostly been living there while he worked on the miniature dwelling.
Now before anyone is tempted to claim moral superiority, Sauer's combined living space is still smaller than the majority of Americans' and he feels the need to downsize – he just isn't sure how yet. The appartment feels a bit too small, the condo a bit too big. At some point he'll let go of one of them. In the meantime his appartment exemplifies the way space can be used, and the lesson is to figure out exactly what space you need; to be realistic. I've often thought that the tiny house movement was, above all, a challenge to the rest of us to use less, but not neccessarily a challenge to be taken literally. My visit to the tiny appartment confirmed both those things.