Two years ago I saw a presentation by Ace McArleton, co-author of the Natural Building Companion, and based on that I knew I needed to order the book. For a while it sat on my shelf, alongside a collection of other books about building and natural building. However it has distinguished itself from its companions in the true test – when I have a question, or encounter a problem in my work as a straw bale builder, it is the first book I reach for. I now consider this book to be an essential reference for those planning to build with straw bales, clay-straw or other natural building materials – and while it is useful for the pros, it is still accessible for beginners.

Jacob Deva Racusin and Ace McArleton have spent the last decade working on high performance natural building – marrying the building science of the superinsulation and passive house movements with natural materials. The natural building movement in general has been moving to adopt better practices around managing heat loss, particularly making buildings more air tight, but the Natural Building Companion is the first book to address it comprehensively, and also to offer practical solutions to common problems.
For example, it's common to couple straw bale construction with timber frame, however the junction of each post or beam with the plaster is likely to become an air leakage problem – movement of the building can even break caulking along these joints when it is used. The best solution to this problem is air fins that run behind the post and several inches under the plaster. Racusin and McArleton discuss proper installation, and share their experiences using different materials as air fins – and the choice of material is critical since the wrong choice can simply displace the crack from the post to the edge of the air fin, or cause other problems.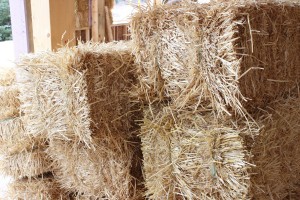 A controversial topic in the bale building world is the use of cement-lime plasters. A track record in Ontario has shown that cement-lime plastered buildings can work in our climate, if designed properly. However I would agree with Racusin and McArleton that cement-lime plaster is not the best choice in this relatively wet, cool climate – and the authors offer a very good alternative plastering system that is more appropriate for our climate. A lime-stabilized earth base coat with a lime finish coat is a system we learned about from European builders, but we had just plastered our first house with this system when we discovered that there was a wealth of knowledge just across the border in Vermont. The authors have mastered this system and share the details of it in their book.
The treatment of moisture management is also thorough; like everything in this book it starts with design considerations and follows through to building techniques and detailing. The authors have also done extensive testing of their buildings post-construction to see how well they performed over time, while they were being lived in.
I even learned tricks to improve our bale work, such as squaring bales before installing them, or the use of "vampire stakes" to anchor straw bales to post and beam structures – the most functional and elegant system I have yet seen for doing this.
The book comes with an instructional DVD filmed at Yestermorrow, which shows exactly what they explain in the text, filmed at each step along the way. I've only consulted this a few times so far, but each time it clarified something that wasn't quite translating from the page for me. Beginners to straw bale will likely want to watch it right through.
I have only picked out a handful of examples, but the Natural Building Companion covers every step from design, through construction, to finishing details, and does it all well. They take it from philosophical underpinnings to technical details of the systems they have evolved with their company New Frameworks.
In short, the authors nailed it, they have written a standard for the natural building world. Having used the book, and spent some time with the authors, I would also agree with Andrew C. Gottlieb that these are definitely builders I'd want to work side by side with, for their professionalism, expertise, and knack for having fun.
I would recommend their website and blog as a reference, in particular I'm keeping an eye on the development of their new system that aims to reach passive house standard while using straw bales. Here is a video of Racusin and McArleton discussing high-performance natural building.